József Fürst
Even though his work is incredibly colorful, their effect is soothing and harmonious. He is the teacher of magical animation of life.
Biography
Hungarian fine artist. Born in Budapest on 3 Februray 1947.
After finishing Secondary School and Academy of Applied Arts, I got into the European art circulation. I won the third prize in Potsdam biennale in 1976.

My works got abroad by the organization of ARTEX. I have had exhibitions in New York, San Francisco, England, Holland, Germany, Austria, France and in Italy.
It is important to mention the famous Sotheby's and Christine's auction scale and my participation in Doroteum. My arts became popular in the 90's.
After the regime had changed many succesful domestic exhibitions were organised in my particular oil paintings.

"Fürst József quotes the 16th century mannerists. His ability in drawing is excellent, use of brush is brilliant, and the surface of his pictures on the painted canvas is ice smooth due to his brushwork. Although his works colorful,they are calmly conciliatory and sedative. He marvellously suits present message to palatial with his ordinary devices and mix it with worldly things,mainly to drawbacks of life: the topics of old age, death war,destruction and abaddon.Bit indirect connotation pictures consummate it. His aggregate works are not homogeny and each has special point of view. He became the teacher of magic animation of life. Now We know that He did not chose an existent school to his works but created a new one. Almost nobady has the patience he did little tasks. He recognised happiness in Budapest art house, where his workmanship developed to such a level,which amplified the spectrum of Hungarian art. He became an unselfish member of Saint-Lucas Alliance, and through his bond he forms his own artistic language.
His portraits show deep layers of characters by a kind of intimate sight,his still-lifes represent unique and typical and general by fantastic richness in details quoting classical ages. His landscapes are out there drive us to hardly apprehensible mystic world."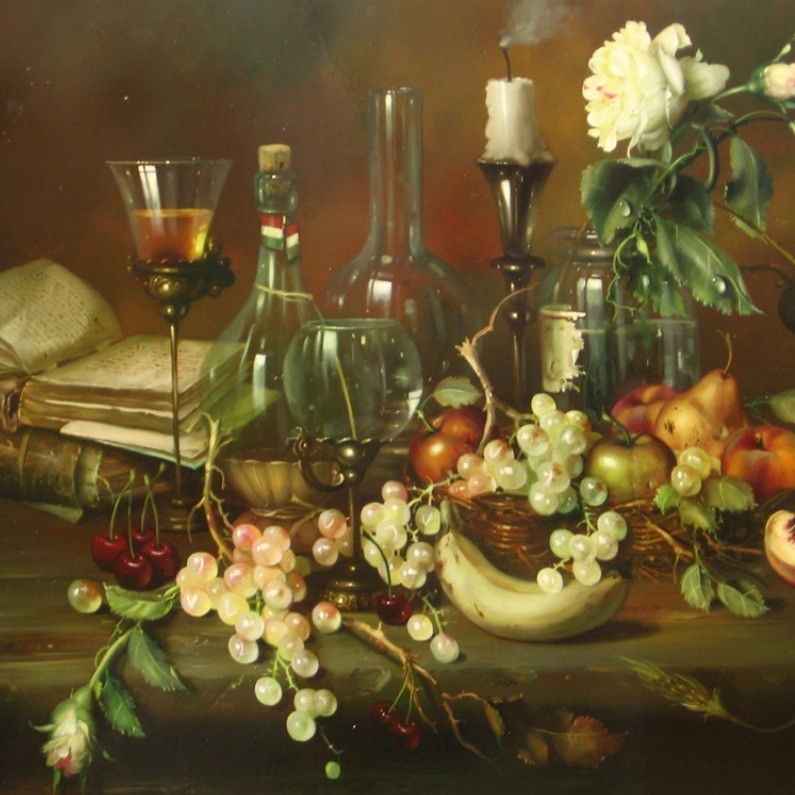 The artist at work
---
19 artworks
Artistic domains : Painting (19)