Kristof Toth
People, sports, animals and stories captured in unique modern bronze sculptures and interesting paintings.
Biography
Born April 2, 1990 in Budapest. He grew up under the art of his father, the academic sculptor Ernő Tóth. As a young child, he was involved in the studio under his feet, and later as a schoolboy he was already actively assisting in modeling and casting him in all known Hungarian sculptures.
In 2008, he graduated from high school, and from 2008 to 2010 he studied biology at the University of Szeged. However, the desire to realize his creative potential was stronger, and so he remained at the university for a few years, this time at the faculty of visual arts and painting to become a professional artist.

Kristóf Tóth is a versatile artist who devotes himself to both painting and sculpture. The painting draws ideas from nature, but it also fascinates physical phenomena, especially the speed it displays in various forms.
The motifs of his sculptural works are even more diverse. Sporting themes dominate, perhaps because he is an active athlete so he can capture moments of sport in all their dynamics and excitement. Whether it is sculpture of a skier, swimmer, swordsmanship, basketball player, skater, cyclist or golf player, we all perceive the dramatic moments of stopping and rewinding into matter.
Exhibitions:
2017 "Mini Paintings" exhibition, Budapest
2017 Budaörs own exhibition
2017 Vásárhely Autumn Exhibition
2017 Wines Exhibition
2016 Érd Exhibition
2016 Vásárhely Autumn Exhibition
2015 Rust Austria own exhibition
2015 Exhibition called "Door" in Kondor Béla community center
2015 Winter exhibition in Érd
2014 OTP Bank gallery own exhibition
2014 Exhibition called Labyrinth in the city of Szentedre
2014 Sochi olympic art contest #2 prize
2014 Érd gallery winter exhibition
2014 Exhibition called "Confusion" in Kondor Béla community center
2013 "Ezüstgerely" contest #1 prize
2013 Lübeck Germany – Paintings and Sculptures
2012 Volvo Gallery
---
79 artworks
Artistic domains : Painting (3), Sculpture (76)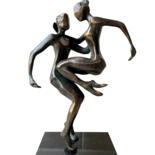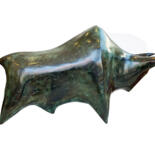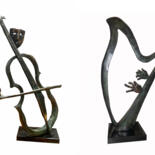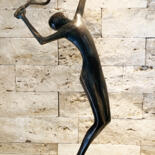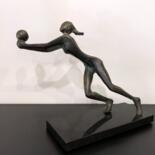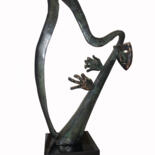 2 Galleries